A very dense cake yet feels light since there is no added fat in the recipe. Applesauce is responsible for the moistness and soft texture. The baked blueberries become like juicy gems of flavor. Great for breakfast, dessert or snack.
Among one of the fruits with the highest level of antioxidants, blueberry has the title of superfood for being one of the most nutrient-dense berries. They are high in vitamin C, K and fibers. Their deep intense blue color is due to anthocyanins which are known for their antioxidant effect. Several studies suggest that blueberries may lower DNA damage therefore protect against cancer and slow the aging process. Studies have also found that blueberries may slow cognitive decline and have a positive impact on your short term memory.
This cake, like wine and cheese, tastes better as it ages, but just in terms of days. The following day after baking the taste improves, the second or third day it gets even better. The cake gets more moist, the cinnamon flavor is enhanced but so is the lemon and blueberries. It will stay fresh for 5 days in an airtight container in the fridge. I am almost sure the cake should be good for up to a week, but it never lasted that long in my fridge.
Here is another yummy, easy and fast recipe with the fantastic berry; Blueberry & Chocolate Banana Bread.
Prep: 15 mins   |   Cook: 55 mins   |   Total: 70 mins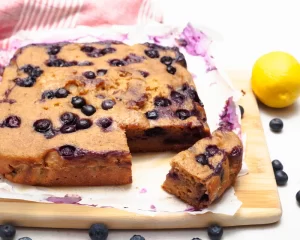 Ingredients
2 cups of whole wheat flour
1 ½ cups of applesauce
2 ½ tsp of baking powder
1 cup of blueberries (fresh or frozen) divided
¾ cup of brown sugar
1 egg
12 tbsp of plain yogurt
1 tsp of ground cinnamon
½ tsp of lemon zest
Prep
Preheat the oven to 390ºF (200ºC). Line a 8×8-inch (20x20cm) square baking dish with parchment paper.
In a medium bowl whisk together the whole wheat flour, the baking powder and cinnamon. Reserve.
In a small bowl combine the yogurt, applesauce, egg, brown sugar and lemon zest. Mix well until combined. 
Add the wet mixture to the dry, mixing well until a smooth batter is obtained. Fold ⅔ cup of blueberries without over-mixing.
Pour the batter in the prepared baking dish. Place the remaining ⅓ cup of blueberries on the cake and lightly pressure them on the batter. Cover the cake with a lightly greased aluminum foil (the greased side facing the cake) and bake covered for 55 minutes or when a toothpick inserted comes out clean. Enjoy! 
The cake will stay fresh for 5 days in an airtight container in the fridge.