Very citrusy and fragrant, these muffins will bring joy. They are fluffy and moist texture will surely please. You will need 3 oranges and about 2 tsp of cinnamon. Great to start the day, bring on a picnic or end a meal.
Oranges are well known for their high level of vitamin C, but interestedly the orange peel contains 3 times more vitamin C and 4 times more fiber than the inner fruit. The peel also has good amounts of vitamin A, B vitamins, calcium and folate. It is rich in disease-fighting polyphenols and limonene, an essential oil with anti-inflammatory, antioxidant and anti-stress properties. 
Cinnamon with its sweet, warm and sharp taste is a great spice to substitute or reduce sugar in recipes. Cinnamon and oranges make a great duo by enhancing and complementing each other's flavors. But cinnamon also has anti-bacterial, anti-fungal and antiviral effects. It appears to help manage blood sugar and may be favorable for an aging brain helping preserve the brain cells.
If you are a fan of muffins like me, you should try the Chocolate Sweet Potato Muffin or the Spicy Chai Muffin.
Enough talking, let's prepare these lovely muffins. My only warning is that it is very difficult to eat just one. Luckily they are good for you, phew!
Prep: 15 mins   |   Cook: 20 mins   |   Total: 35 mins
Ingredients
1 ½ cup of whole wheat flour
½ cup of oat flour (use a blender or food processor to grind the rolled oats)
¾ tsp of baking soda
½ tsp of baking powder
⅓ cup of sugar
¾ tbsp of orange zest (zest from about 2 medium oranges)
1 egg
1 cup of orange juice (juice from about 2 ½ oranges)
1 ½ tsp of ground cinnamon
⅓ cup of vegetable oil
Topping
½ tbsp of sugar
¼ tsp of ground cinnamon
Orange juice from ½ orange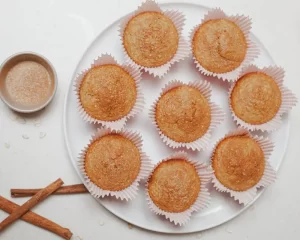 Prep
Preheat the oven 350ºF (180ºC).
Line a 12-tin muffin tray with 12 liners. 
In a medium bowl whisk together the oat flour, whole wheat flour, baking soda, baking powder. In another bowl whisk until well combined the vegetable oil, egg, orange juice, sugar, orange zest and cinnamon. Combine the wet with dry ingredients, don't over mix. 
Evenly divide the batter amongst the prepared muffin tray. Bake for 20 minutes or until a toothpick inserted comes out clean. 
For the topping combine the sugar with the cinnamon. Once removed from the oven, brush the muffins with the orange juice and lightly sprinkle the cinnamon sugar.
Muffins will keep in an airtight container for up to 3 days. Enjoy!