Beginning of fall and apples go hand and hand. Comfort and warmth can always be found in apples with spices, think apple pie. These baked doughnuts bring the cozy deliciousness to a next level, very fluffy and full of flavor.
In North America several apple varieties are harvested between the end of July and beginning of November. October is a perfect time to enjoy this delicious fruit that offers so many possibilities. In my previous post Baked Apple Slices I talked about many of the health benefits apples offer. 
Spices are sparsely used since their flavor and aroma is so concentrated, so many of us give little attention to all their health benefits. 
I consider allspice a four in one, since its flavor is like a mixture of black pepper, cinnamon, nutmeg and cloves. It is an excellent source of manganese, calcium, iron and vitamin B5, besides antioxidants. Many of its compounds have been studied and they show anti-inflammatory, anti-nausea and anticancer capacity. Allspice compounds may also help reduce the negative symptoms of menopause such as hot flashes, night sweats and weight gain. It might also improve digestion and offer antibacterial and anti-fungal effects, in addition to pain relief.
With so many benefits and delectable flavor, allspice definitely should be used more often. Besides being incorporated into savory dishes, baking items and desserts it is a great addition sprinkled over lates and milk teas.
A little note regarding the doughnut icing. In all recipes I always try to keep the sugar to a minimum. That's why the amount of icing for the doughnuts is very little, just enough for a very light drizzle. If you prefer more icing, you can double or even triple the icing recipe to your liking.
Prep: 15 mins   |   Cook: 13 mins   |   Total: 28 mins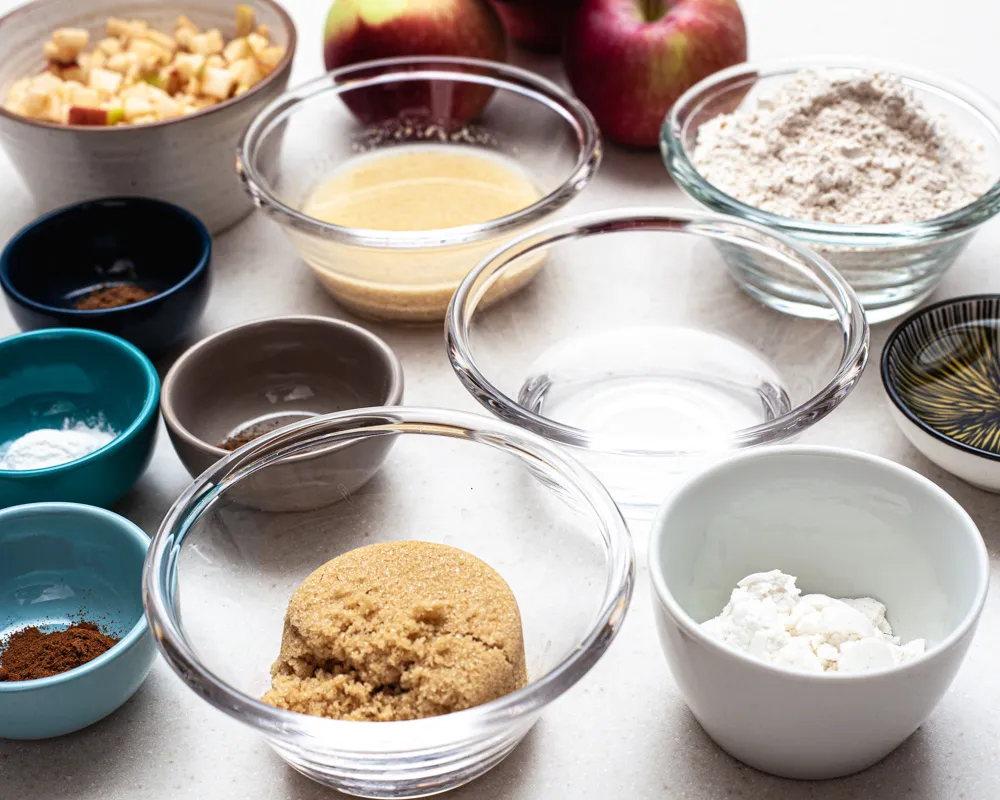 Ingredients
Doughnuts
2 tbsp of ground flaxseed
5 tbsp of warm water
¾ cup of whole wheat flour
1 cup of cubed apple with the skin with a splash of lemon juice
⅓ cup of light brown sugar
2 tbsp of potato starch
¾ tsp of baking powder
4 tbsp of water
3 tbsp of vegetable oil
½ tsp of ground cinnamon
¼ tsp of ground allspice
¼ tsp of ground nutmeg
Icing
1 tbsp of icing sugar
⅛ tsp of ground cinnamon
½ tsp of lemon juice
Prep
Preheat the oven 375ºF (190ºC). Generously grease 9 cavities of a doughnut pan (the recipe makes 9 doughnuts).
Mix the flaxseed meal with the 5 tbsp of warm water to make a flax egg. Let it sit for 5 minutes.
In a medium bowl whisk together the whole wheat flour, the potato starch, baking powder, cinnamon, allspice and nutmeg.
In another bowl mix the cubed apples, flax egg, light brown sugar, water and vegetable oil. Add the dry to the wet ingredients, stirring until well combined.
Using a piping bag, fill each donut cavity ¾ full, then even the batter using a spatula. Bake for 13 minutes or until a toothpick inserted comes out clean.
Let the doughnuts cool for 10 minutes before unmolding them. 
Mix all the ingredients of the icing. Using a small plastic bag, make a very small hole in one of the ends and drizzle, very lightly, the icing on all donuts. Enjoy!
The doughnuts stay fresh for up to 3 days in an airtight container, although I must say they go very fast 🙂